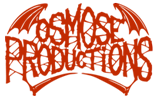 Media: CD Digipack

Label : Van
Press : VAN219DIGI - Denmark

Year : 2017

New or Used : original new
Info : Building up on their highly acclaimed EP "Beautiful and Damned" (2015) and an own blend of Black Heavy Metal, this band is definitely armed and ready for the next step with "Domus Mysterium". Delve into sophisticated, yet aggressive compositions garnished with brilliant melodies and musicianship.
Noble digipack CD with silver hotfoil-embossing.
Fold-out booklet with lyrics, info and impressions.
other stuffs from the artist :