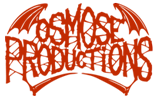 Media: CD x 2 Crystal Box

Label : 20 Buck Spin
Press : SPIN104CD - Usa

Year : 2018

New or Used : original new
Info : Scorched return with their 2nd full length experiment in barbarity. Earlier in 2018 20 Buck Spin collected the body of Scorched non-LP material onto the ' Excavated For Evisceration' platter, reintroducing the band under the label's banner. And yet 'Excavated…' served as mere appetizer to the main course of 'Ecliptic Butchery', a sadistic tale of deep space terror and desolate inhumanity smeared in blood red brutality.
The eerie bizarre intro of 'Blood Splatter Eclipse' sets the unearthly mood of a place far beyond. The band fades in with a savagely slow churn indicating a crossover to a domain where piercing shrieks of pain are to be indifferently lost in the lifeless expanse of the void. The hopeless punishment continues as 'Exhibits Of Torture' are everywhere and the 'Mortuary Of Nightmares' leads only deeper into the horror until finally a formless mass of 'Dissected Humanity' is all that remains.
The CD version of 'Ecliptic Butchery' contains a bonus disc with the entire ' Excavated For Evisceration' release.
other stuffs from the artist :