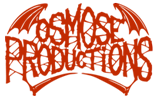 BINAH Phobiate. Clear Vinyl
Media: LP
Label : Osmose
Press : OPLP350clear - United Kingdom

Year : 2018

New or Used : original new
Info : 200 x white 12" (140g) full-color innersleeve on 220g, jacket full-color on 350g, all assembled in a PVC overbag.
A triumvirate of creative and seasoned musicians offering a unique, atmospheric and slowly yet constantly morphing take on Death Metal.
Members are, or have been involved (either creatively and/or as live members) in bands such as Code, Indesinence, Anaal Nathrakh, Esoteric, Pantheist...
other stuffs from the artist :