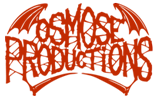 SJUKDOM Stridshymner Og Dodssalmer. Black Vinyl
Media: LP
Label : Osmose
Press : OPLP341 - Norway

Year : 2018

New or Used : original new
Info : Sjukdom has its origins in mid-2011 when drummer Natt and vocalist Avsky, fueled by their mutual passion for black metal, decided to start a project of their own.
The goal was to create black metal in the traditional Norwegian style, aggressive, cold and without mercy.
Limited edition to 300 copies, black vinyl.

Recommended for fans of Nordjevel, Marduk, Avslut...
other stuffs from the artist :