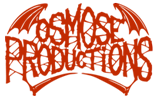 Media: LP
Label : Dark Descent
Press : DDR105LPclear - Belgique

Year : 2017

New or Used : reissue new
Info : 2017 repress on clear vinyl, limited to 187 copies.
This version was exclusively available through Babylon Doom Cult Records.

Since 1998, Belgian death squad Emptiness has shown its ability to write surprising material with diversity and set a real identity, pushing boundaries far beyond traditional black/death metal music. Through their powerful sounds and visuals, they express a dark, original view on an empty, valueless world. When Phorgath and Olve aren't busy touring with their other band Enthroned, the band convenes in their own recording studio, Blackout, which serves as a bursting energy lowland where the members can gather and take the time to shape their sound even closer to their aesthetics and intention.
other stuffs from the artist :