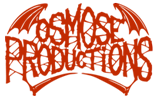 Media: LP
Label : Sepulchral Voice
Press : SVRLP029 - USA

Year : 2020

New or Used : original new
Info : Formed in 2015, BLACK CURSE is the focused will of death-obsessed fanatics. Physically residing in Denver, Colorado, the band is comprised of various members of other cults responsible for the outside attention the city has gained in recent years. BLACK CURSE has grown slowly over the years, changing form several times. The band has a meticulous writing process, wrought with intention and focus, that demands reflection. With this in mind they chose to let the material take shape over years of creative effort,
evolving into a fully realized vision of something powerful and succinct.

Combining ripping, violent rhythms with razor sharp riffing and trancelike pulses, BLACK CURSE creates true malevolence. The band rips open (un)holy portals to times when Black and Death Metal shared the same principles, the same aesthetics, and the same diabolical wrath.
other stuffs from the artist :