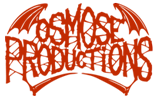 ABSU ...And Shineth Unto The Cold Cometh...Black Vinyl
Media: LP
Label : Osmose
Press : OPEP005black - USA

Year : 2020

New or Used : reissue new
Info : This is a pre-order. Your order will be dispatched when the item with the latest release date is available.

...And Shineth Unto The Cold Cometh... was the follow-up/companion 7"EP released shortly after Absu's The Sun Of Tiphareth in 1995. With a one-time pressing of 500 copies, this new version is now presented as a single-sided 12" (B-Side exposing a screen-printed Absu logo) and alternate sleeve design. (Full-color poster included)

200 x black 12" (140g) - SIDE B silkscreen print, printed innersleeve on 220g, A2 poster full-color on 150g art paper, Jacket with silver print on 350g, all assembled in a PVC overbag.
other stuffs from the artist :