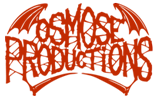 Media: LP + Book
Label : Osmose
Press : OPLP316black - France

Year : 2016

New or Used : reissue used
Grading cover / record : NM / M
Info : Rattenkönig is an introverted journey to a claustrophobic heavy atmosphere.
This album sounds a bit less aggressive than the previous one as it's more based on paranoia feelings, isolation and mental downfall.
Re-issue with 4 pages booklet, limited to 250 copies black vinyl.
3 COPIES IN STOCK, WITH A CORNER LITTLE BITE BEND.
other stuffs from the artist :