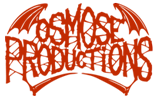 URN Iron Will Of Power. Black Vinyl
Media: LP Gatefold Gatefold

Label : Season Of Mist
Press : SUA107LPblack - Finland

Year : 2019

New or Used : original new
Info : 1st pressing in black vinyl (350 copies).
In 2017, 'The Burning' (2017) brought URN new motivation and inspiration which made the band stronger than ever before. With brand new release 'Iron Will Of Power', URN walk their own path more powerful than ever, and with a well-deserved 'we do what we want' mentality they salute grinning whilst conquering the throne of Black Steel Worship!
For fans of NIFELHEIM, DESTRÖYER 666, AURA NOIR.
other stuffs from the artist :