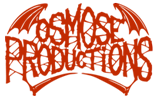 FURIA Nocel. White & Orange Vinyl
Media: Double LP Gatefold Gatefold

Label : Pagan
Press : MOON096LP - Poland

Year : 2018

New or Used : reissue new
Info : Fourth full-lenght from the Polish experimental black metallers FURIA! The band have been dwelling within the Polish black metal underground for a period of time in which this enigma have clearly spearheaded themselves as one of most prominent acts within the scene. "Nocel" consists of 8 brand new morose and mournful hymns that displayed a scenario where fury and hatred are the two dominating emotions. They rumble gloomily and yawn with methane.
Reisssue on double coloured vinyl in solid 370gsm gatefold sleeve with printed insert. Limited to 250 copies.
Fourth full-lenght from the Polish black metallers FURIA! Side A/B on ORANGE vinyl, side C/D on WHITE vinyl.
other stuffs from the artist :