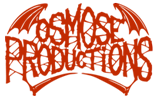 KZOHH Rye. Fleas. Chrismon.
Media: Double LP Gatefold Gatefold

Label : Osmose
Press : OVIR043LP - Ukraine

Year : 2016

New or Used : original new
Info : We are so proud to release under vinyl this pestilent horror black metal album with medieval theme! A long story released in 2 vinyls with 2 bonus track. Limited to 300 copies, 350g gatefold cover, double printed innersleeve.
other stuffs from the artist :