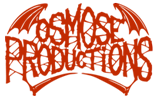 Media: Double LP Gatefold Gatefold

Label : Iron Bonehead
Press : None - Australia

Year : 2019

New or Used : reissue new
Info : Limited to 400 copies on standard black vinyl.
Comes in a gatefold cover sleeve.
"Drowned" was written & recorded in the year of Sorrow & Hate 2004.
When everything fell apart & a time of treachery began...
This DLP is something very special, "Drowned" is a sonic reflection in time and an eternal glimpse into the shadow of the past.
other stuffs from the artist :