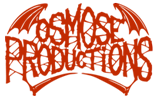 BEHEXEN My Soul For His Glory. Splatter Vinyl
Media: LP 180-220 gr Gatefold

Label : Debemur Morti
Press : DMP0182LP - Finland

Year : 2020

New or Used : reissue new
Info : This is a pre-order. Your order will be dispatched when the item with the latest release date is available.

"My Soul For His Glory" is a slab of intensely Finnish savagery which has grown in stature since release, BEHEXEN's trademark punk-inflected rawness tempered with layers of enthralling dark ambience and a transcendent melodic sensibility that goes toe-to-toe with the best occult Black Metal.

Comes with 12"x12" 12-page booklet and download card.
Pressed on tri-colour heavy vinyl with splatters.
PRE-ORDER : Sent on 02/28/2020
other stuffs from the artist :