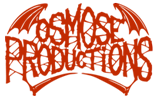 Media: LP 180-220 gr Gatefold

Label : Pagan
Press : MOON136LPblack - Greece

Year : 2021

New or Used : original new
Info : This is a pre-order. Your order will be dispatched when the item with the latest release date is available.

Yoth Iria is the brainchild of Greek black metal veterans Jim Mutilator and The Magus - the duet which developed and pioneered the underground scene back in the day.
Yoth Iria's music is an amalgam of the influences and visions of its creators. Dark, diabolical, emotional, powerful and majestic. A fresh look into '90s Greek occult black metal with a nostalgia of the past and a look into the future.
PRE-ORDER : Sent on 01/25/2021
other stuffs from the artist :