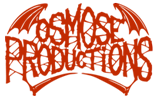 Media: LP
Label : Osmose
Press : OPLP309blue - Norway

Year : 2019

New or Used : reissue new
Info : NORDJEVEL is deeply rooted in traditional Black Metal, but provide a unique twist both in the compositions and the lyrical themes.
NORDJEVEL manifests the worst of the beast that is Scandinavian Black metal.

Reprint, 300 x aqua blue 12" (140g), innersleeve full-color on 220g, jacket full-color on 350g, all assembled in a PVC overbag.
other stuffs from the artist :