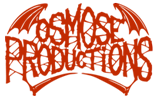 MARDUK Germania. Bloodred Vinyl
Media: Double LP Gatefold Gatefold

Label : Osmose
Press : OPLP054bloodred - Sweden

Year : 2020

New or Used : reissue new
Info : Osmose Productions in cooperation with Blooddawn Productions are proud to present the reissue of Marduk's classic live album Germania! Recorded back in 1996 and being one if the first extreme metal live album being done!
Original released in 1997 and since long sold out and out of print. When released creating havoc with its intense power and ferocity!
Now brought for in a Nov 2019 re-mastered version ready to be available again on digital forum as well as on cd and lp! Death to peace!

2x 50 x 140g 12", bloodred vinyl, gatefold jacket 350g with UV spot printed on reverse board, 4 page vinyl size booklet 190g art paper.
All assembled in PVC overbag.
Only 3 in stock !!
other stuffs from the artist :