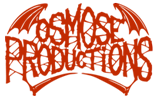 Media: LP 180-220 gr
Label : Osmose
Press : OPLP345clear - Finland

Year : 2018

New or Used : original new
Info : TotalSelfHatred are back! And the album is massive!!!!!! Took almost 2 years to finalize it...you won't regret!
250 clear vinyl 180g, full-color innersleve220g, jacket full-color on 350g, all assembled in a PVC overbag.

Tracklist:
1. Solitude MMXIII (09:20)
2. Cold Numbness (08:07)
3. Hollow (08:31)
4. Black Infinity (08:05)
5. Nyctophilia (08:15)

Perseverance through adversity, creation through destruction, strength through pain. After years of waiting, skulking and lying near-dormant, Totalselfhatred has returned to the fray. We are here to present you five songs of our own particular brand of melancholic desolation in an audial form. Turn off the lights, wallow in the sweetness of reclusive negativity and let yourself float freely in the soothing stream of emotion that our epitome of Solitude will provide.
other stuffs from the artist :