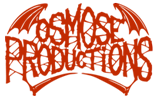 Media: LP 180-220 gr
Label : Osmose
Press : OPLP069black - Finland

Year : 2019

New or Used : reissue new
Info : This is a pre-order. Your order will be dispatched when the item with the latest release date is available.

Re-issue, remastered, complete new layout.
250 x black 12" (180g) in a black poly-lined innerbag, full-color innersleeve on 220g uncoated carton, full-color jacket on 350g uncoated carton with UV partial lacquer, all assembled in a PVC overbag.
PRE-ORDER : Sent on 10/25/2019
other stuffs from the artist :