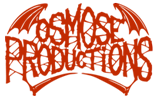 Media: Tape Jewel Case

Label : Osmose
Press : TAOG02-666c - Finland

Year : 2020

New or Used : reissue new
Info : This is a pre-order. Your order will be dispatched when the item with the latest release date is available.

No need to introduce IMPALED NAZARENE.
First studio recording of the band from 1991, revisited & remastered.
200 x audio cassette white with black print, 5 panel card on offset matte paper, all assembled in a clear case.
other stuffs from the artist :