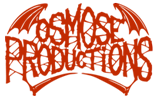 Media: CD Crystal Box

Label : Osmose
Press : OPCD321 - France

Year : 2016

New or Used : original new
Info : Recorded during endless nights, through spontaneity and suffering.
No rehearsal had been planned before entering the studio. They wanted to make a record in a hurry, following the mood of the moment.
Unique, original and inspired by all the things that influenced them during all these years. Without any boundaries or limitations, PANACEA is a subtle combination of idleness, suffering, solitude, a nocturnal atmosphere and the will to overcome...
other stuffs from the artist :