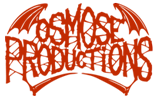 Media: CD Jewel Case

Label : Osmose
Press : OPCD001-666-1 - Suisse

Year : 2020

New or Used : reissue new
Info : Samael "Blood Ritual" is the second album from Samael.
We are proud to get the permission from Century Media to issue this cult second album.
Featuring the original cover artwork for a CD and VINYL version, and a complete new CD layout including for the first time the lyrics.
other stuffs from the artist :