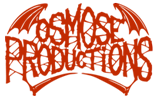 KZOHH Rye. Fleas. Chrismon.
Media: CD Digipack

Label : Ashen Dominion
Press : AD08DIGI - Ukraine

Year : 2018

New or Used : reissue new
Info : ABSOLUTELY BRILLIANT ALBUM!
Re-issue of second album + 2 bonus tracks.
Hark to the eerie howling of the southeastern wind...Smell its putrescent, malignant breath...And following the crunch of the wain's wheels the dead start their frantic dance...La Grande Danse Macabre...
other stuffs from the artist :