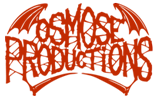 Media: CD Digipack

Label : Osmose
Press : OPCDL377 - Sweden

Year : 2019

New or Used : original new
Info : The anticipated second full-length album from the Swedish black metal legion AVSLUT is finally released upon the world.
With nine vicious new songs, the band takes it to a whole new level with 'Tyranni'.
Prepare yourself for internal war and even more intense and authentic material than ever before.
other stuffs from the artist :