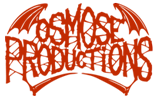 Media: LP 180-220 gr
Label : Cosmic Key Creations
Press : CKC056LPgold - Norway

Year : 2019

New or Used : reissue new
Info : Legendary black metal band from Oslo, Norway, founded by Galder (Dimmu Borgir).
The Vermin album was originally released in 2005 by Century Media. Here is the official repress on Cosmic Key Creations.limited to 500 copies on coloured vinyl. Issued under exclusive license from Century Media Records
LIMITED EDITION TO 400 COPIES, GOLD VINYL.
other stuffs from the artist :