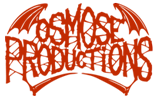 Media: LP 180-220 gr x 2 Gatefold

Label : Peaceville
Press : VILELP395 - Italy

Year : 2013

New or Used : reissue new
Info : + 4 bonus tracks.
'Tolling 13 Knell', Mortuary Drape's third full-length album was originally released in 2000 on Avantgarde Music. Often regarded as one of the band's strongest works, the album delivers an eerie concoction of evil metal riffing & dark occult atmosphere to unnerving effect.
This edition of 'Tolling 13 Knell' is presented on 180gm black double gatefold vinyl.
other stuffs from the artist :