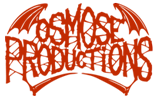 GORGON Call From Unknown Depths
Media: CD Crystal Box

Label : Osmose
Press : OPCD367 - France

Year : 2019

New or Used : reissue new
Info : Conceived in the South of France from where the band is born, this recording is the first and only including the original line-up of Gorgon. For the first time on CD format, these six tracks are a mixture of fast and slow riffs, with vocals which scream real pain. The keyboard parts played by the female bassist bring morbid atmosphere highly suitable to the dark topics that the lyrics are based on. Praised by the worldwide underground at the time, it's a rediscovery of the roots of evil that gave birth to the album The Veil Of Darkness years later that the band took us down.
Re-issue of the very first demo, re-mastered for a better dynamic by WSL studios.
A personal conception of black metal at 666 miles from the actual trend.
Complete new layout supervised by Chris himself.
other stuffs from the artist :